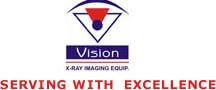 A Generation Ahead… Vision A-60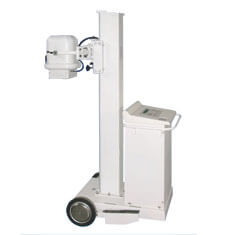 Mobile X-Ray Systems
Micro processor based digital control panel.
Electronic feather touch membrane keyboard. (Guaranteed and specially designed for one million operations.)
Convenient auto programme and manual mode selection with LED display.
Independent kVp, mA & timer display
Various voltages and timer setting options.
X-ray on audible tone.
Mains on/off with overload circuit breaker.
Horizontal and vertical travels of arms for better positioning of bedside X-Rays
Counter balance mechanism for easier positioning and optimum results.
Slick, light and space saving design for maximum manoeuverability and mobility for the first time in India.

Technical Specifications
Radiography
:
60 mA at 80 kVp / 0.15 sec, 40 mA at 100 kVp. 0.7 se, 20 mA at 100 kVp / 10 sec
Fluoroscopy
:
3 mA at 100 kVp
Tube Current
:
20 mA, 40 mA, 60 mA
Tube Voltage
:
40 kVp - 100 kVp (in step of 1 kVp)
Rectification
:
Full wave rectified
X-ray Tube
:
BEL ( India ) DSA-3, Stationary Anode, Focus 2.8mm x 2.8mm, Anode capacity 40 kHU
Collimator
:
Manual Light Beam, Diaphragm
Up / Dowen Fully Counter-balanced
Mechanical Tube Movements
;

| | | | |
| --- | --- | --- | --- |
| Vertical Travel | 1300 mm | Angular Travel | + / - 80 deg. |
| IN / OUT Travel | 400 mm | Tube Angulation | Full rotation |

Exposure facilities
:
Stand by & exposure switch on console & switch with extended cable
Power supply
:
230 V / 1 phase / 50Hz
Overall dimensions
:

| | |
| --- | --- |
| 1200mm | Length |
| 650mm | width |
| 1880mm | height |

System weight
:
Approx. 220 kg