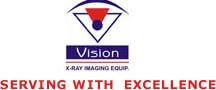 Mobile X-Ray machines from V. M. Engineering Co. (P) Ltd. have been designed to meet international standards. Needless to say the machines are easy to operate and yet have been the power to meet all basic radiography needs. The image quality and contrast is impressive and this help in making the best clinical decision. The machine is designed for easy mobility and manoeuverability through lifts & narrow corridors, into ICU's, OT's and wards. Vision 100 is well suited for individual clinics, polyclinics, nursing homes & corporate hospitals. Siddha Laxmi presents mobile X-Ray machines that are at par with the best in the world… at price you can afford.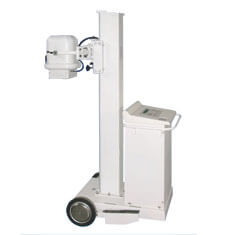 Vision 100 - A Generation Ahead !
The Vision 100 mobile is designed in keeping in view the priorities and problems that you face in the X-Ray room.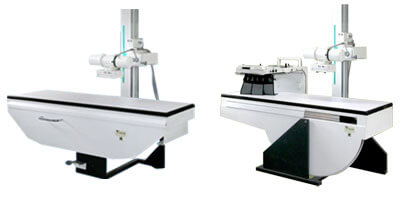 Special Features
Micro Processor based digital control panel.
Electronic feather touch membrane keyboard. ( Guaranteed for one millionoperations. )
Convenient auto programme helps Doctor for better image quality.
Manual mode selection.
Independent kVp, mAs display.
Various voltages and timer setting options.
X-Ray ON audible tone.
Mains on / off with overload circuit breaker.
Automatic tube overload protection for longer tube life.
Also available with classic control. ( Conventional control with digital display )
State of the art imaging within your reach
Counter balanced mechanism - easier positioning, better radiography results.
3-wheel design - for maximum mobility manoeuverability.
Horizontal and vertical travels of arms for better positioning for bedside X-Rays and trauma cases.
Utility
The machine is ideal for X-Rays of chest, skull, extremities and special investigations including Barium IBP & routine Orthopedic examinations. Range of optional accessories are also available : Horizontal & manual multi position bucky examination tables.


Technical Specification
• Generator Rating
Radiography
100 mA at 100 kVp
Fluoroscopy
5 mA at 100 kVp
• Tube Current
Radiography
25 mA, 50 mA, 100 mA
• Tube Voltage
Radiography
45 kVp - 100 kVp
• Timer
Radiography
0.02 sec - 10 second Solid state
• Power
8KW
• Power Supply
Single phase
230 V, 50 / 60 Hz, 10KVA 0.6 Ohms line resistance *On a weak power supply Line, it is recommended to have 3-phase 415 V, 0.6 Ohms resistance, 10KVA line
• Self-contained Tube Head Specification
Rectification
Full-wave, rectified
• X-Ray tube
Stationary Anode, 40 KHU, 2.8mm x 2.8mmFocal Spot
• Overall Dimensions

| | |
| --- | --- |
| 1200mm | Length |
| 650mm | Width |
| 1880mm | Height |

• Movements
Up / Down Fully Counter-balanced


| | |
| --- | --- |
| Vertical Travel | 1300mm |
| IN / OUT Travel | 400mm |
| Angular Travel | + 80 deg |
| Tube Angulation | Full rotation |