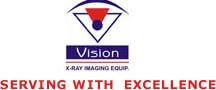 portable x ray NDT inspection system is easy to use and offers real time, sophisticated analysis of objects. The system consists of a remote laptop, x ray source and a capture screen. The system is designed for both field use and NDT laboratory integration, offering outstanding X ray image quality down to the smallest detail.
The Portable NDT x ray system is lightweight, easily configurable for different environments and is set up in minutes by one person. It comes with a choice of x ray sources and has both wired and wireless capabilities. The system can be ruggedized for applications where it will be exposed to harsh conditions.
The object is placed between the screen on one side and the x-ray source on the other. KrystalScan software controls the x-ray source and captures the resultant image. Captured images can then be enhanced using KrystalScan application for further analysis. Any object kept between the image screen and the x-ray source can be examined immediately. The setup can be used to capture images from various angles for better understanding of the object.

Features
Set up within minutes
Can be set up on existing client laptop / desktop
Wired or wireless connection option
Real time image capture and analysis
Image Screen Sizes
Small 8"x10"
Medium 11"x15"
Large 13"x17"
Control Console
Ergonomic console integrated in the cabinet structure
Electrical panel and electronic boards inside the cabinet base
Easy back door access for maintenance operations
Operator push-button panel with main functions
Joysticks for axes movement
4 user programmable function keys.
Advanced X-Ray image processing
X ray image processing, archival and retrieval
Market Applications
Pipe Inspection
Weld Inspection
Aerospace Components
Ammunition and Missiles
Power line Inspection
Art Authentication
Ancient Artifacts Authentication
Castings Inspection
Forensic Analysis
Agriculture / Forestry Imaging
Many other uses